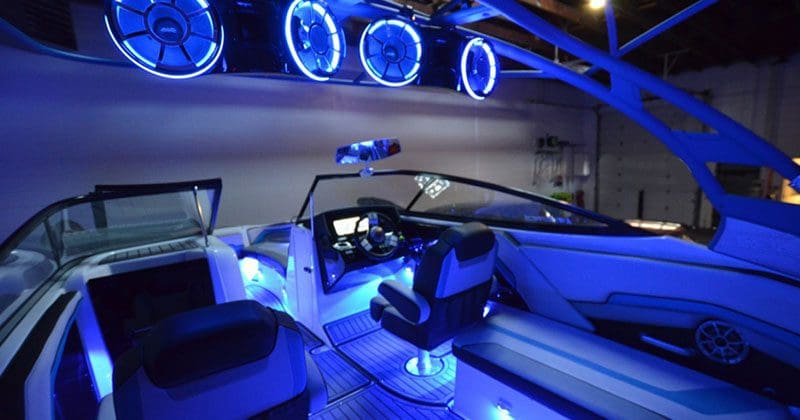 When it comes to spending a day relaxing or playing on the water, upgrading your boat or personal watercraft with a high-performance audio system makes everything more fun. From a radio and pair of speakers in a small fishing boat to a complete multizone audio system with tower speakers, subwoofers and high-power amplifiers, marine audio system upgrades can be tailored to your listening style and the size of your vessel. This BestCarAudio.com Buyers Guide will let you know what to look for when visiting your local specialty mobile enhancement retailer to shop for marine audio system upgrades.
Marine-Grade Source Units
You've got a long list of options when choosing a source unit for a marine stereo system. Besides choosing from features like Bluetooth audio streaming, compatibility with wired remote controls, integration with multifunction displays and multizone support, you need to know what size radio is suitable for your application.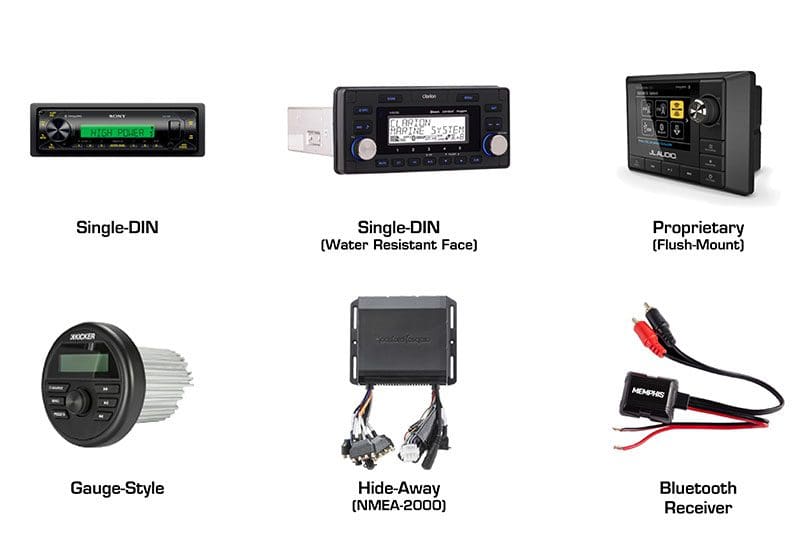 If the radio on your boat will be mounted away from the water in a nav station, a berth or on a circuit breaker panel, then you can choose a single-DIN design. These radios are similar to what would be used in a car audio system but add features like a corrosion-resistant conformal coating to the circuit board, reverse LCD screens that are easier to see in bright sunlight and compatibility with wired remote control options. Just as in your car, you can pick from a CD receiver or a digital media unit with a USB port. SiriusXM satellite radio is a popular option for marine source units as there are often very few radio stations in rural cottage and camping areas.
Most marine receivers include Bluetooth audio streaming. Unlike units designed for use in cars and trucks, these radios don't typically include hands-free calling capabilities. Nevertheless, you can stream music files stored on your smartphone or, if you have cellular data access, from an online service like Pandora, iHeartRadio, Tidal or Spotify.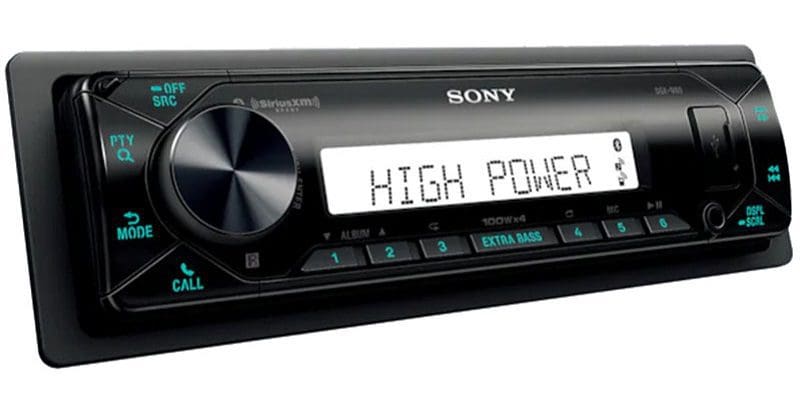 If there's any chance the radio in your boat might get splashed or be exposed to rain, then it's paramount that you choose a weather-resistant solution. These radios have a rubber gasket that seals against your boat's hull to ensure that water won't get into the electronics. Likewise, the controls and buttons have integrated seals to keep water out. You will want to check that the radio has been tested for prolonged UV exposure, so you'll know the colors won't fade and the display screen won't turn yellow. If you are using the radio near the ocean, check for saltwater exposure testing to ensure reliability.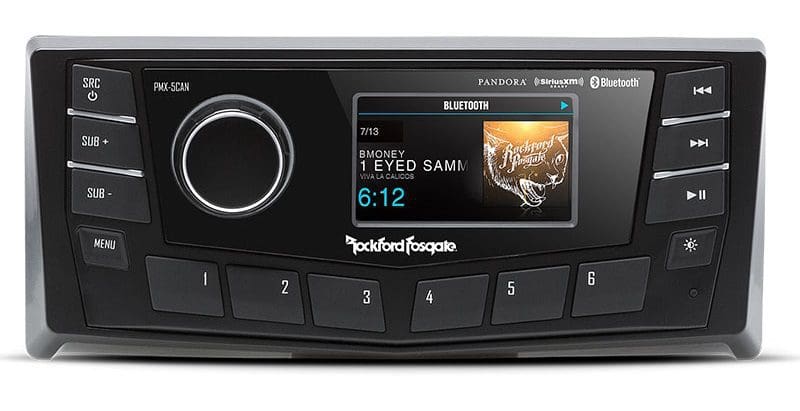 The majority of marine source units are compatible with optional remote controls. Most systems use DIN-style cables to let you add remotes to locations like a swim platform or helm to make using the radio easier. These remotes may be available with displays to let you see what track is playing. If your boat has a specific brand of wired remote, then you'll need to stick with that brand for the radio. The communication protocols between the components are usually unique and not compatible with other companies' remotes.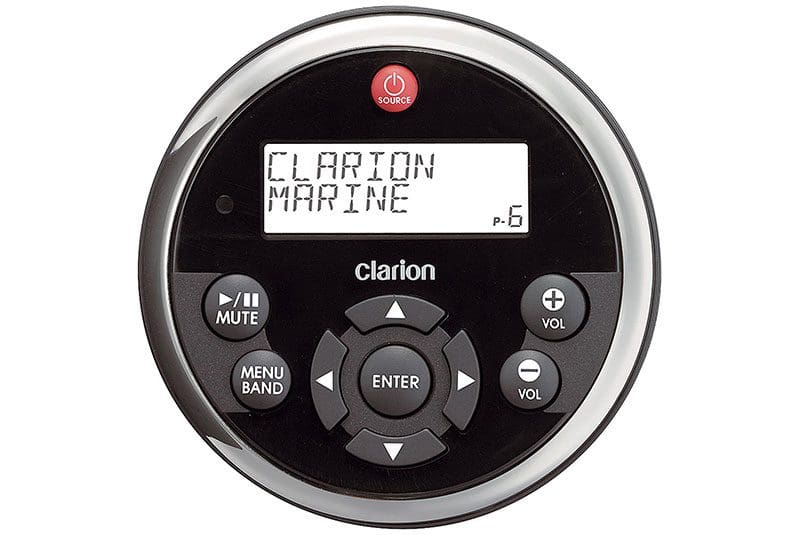 The last stand-alone radio option we'll discuss is the gauge-style radio. Similar in concept to a marine remote, these compact radios combine a built-in amplifier and tuner into a unit that can be mounted in the dash of your boat. Many models include Bluetooth streaming, USB ports for MP3/WMA playback and wired remote compatibility.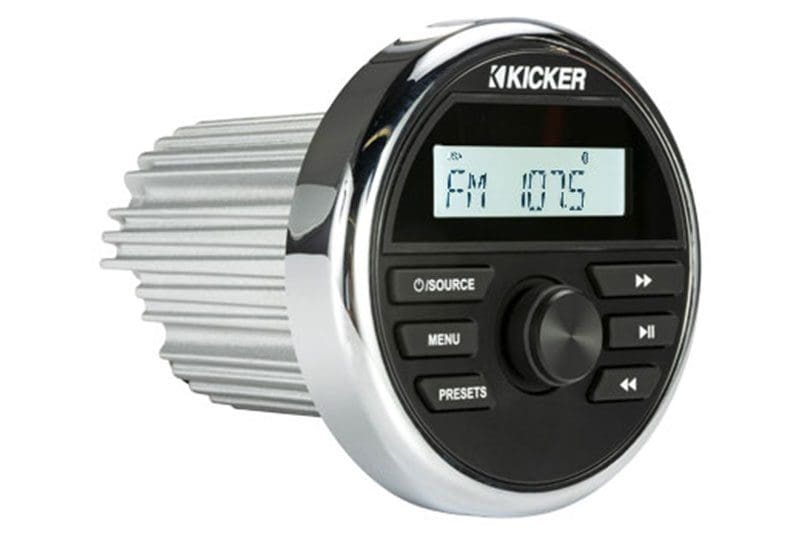 Hide-Away Source Unit Solutions
Over the last decade, the popularity of two-piece radios has increased dramatically. These solutions combine what's known in the industry as a "black box" module with all the power, speaker and preamp connections and a display module that can be mounted easily at the helm or in the galley.
Many of the newer solutions include direct NMEA 2000 compatibility with multifunction displays from companies like Simrad, Lowrance, B&G, Raymarine or Garmin. In many cases, you can use these hide-away solutions without the need for a dedicated display when you have NMEA 2000 device.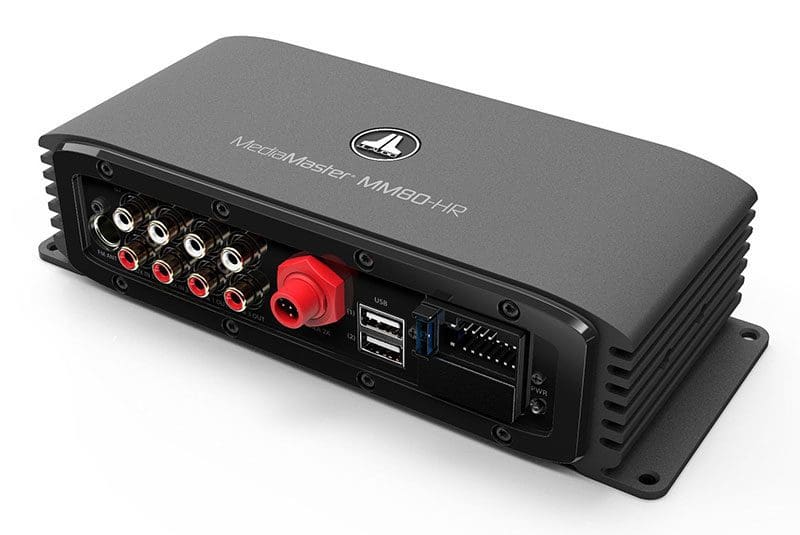 If you have an audio system designed for a boat that will have wakeboard tower speakers or a larger boat that might benefit from the ability to control the volume of the music in different areas, then look for a source unit with multizone control. In many cases, radios with multiple output zones have a master volume control for the entire system on top of dedicated volumes for each output. You could use this feature to fine-tune the output of a set of tower speakers, speakers on a swim platform, in the cabin and in the cockpit.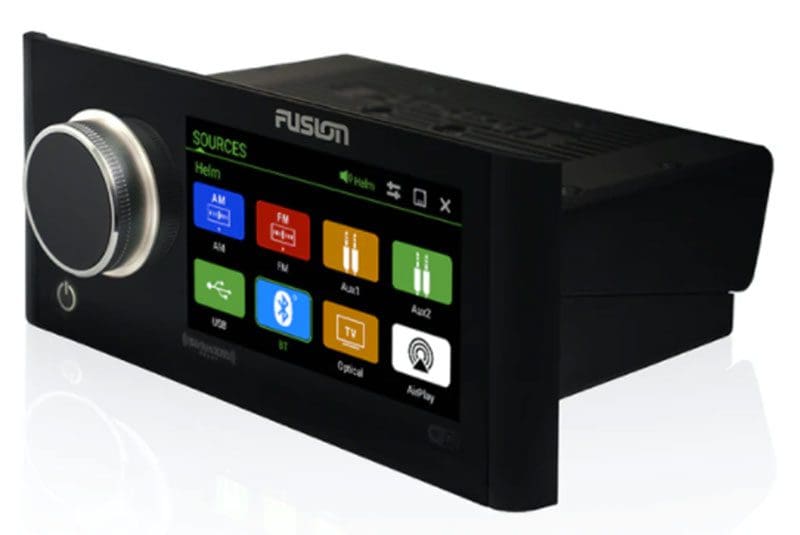 Bluetooth-Only Source Solutions
A final option that is very popular for personal watercraft is to use a Bluetooth receiver. If you don't plan on listening to the radio and all your music is already on your smartphone, streaming Bluetooth is a perfect solution. This category offers two interface options. Many companies offer a small flush-mountable Bluetooth receiver with volume control and track selection buttons. These units add the Audio Video Remote Control Profile (AVRCP) to the Advanced Audio Distribution Profile (A2DP) that is used to stream high-quality audio. Having AVRCP allows commands from the receiver to be executed on your phone. The second option is a completely hidden receiver. All the volume control and track selection functions would be handled directly on your smartphone. If you're interested in a stealthy installation, this is a perfect choice.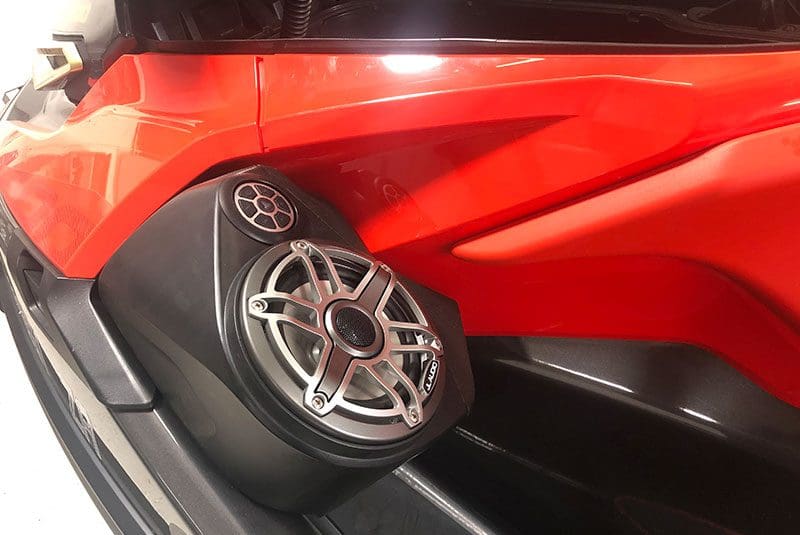 Marine Speaker Options
We've said it a few dozen times, and it's worth repeating: Speakers are the most important aspect of any audio system upgrade. Without good-quality speakers, even the best electronics in the world will sound mediocre at best. When it comes to marine audio, speakers have to play loudly while being able to withstand water and prolonged UV exposure. Frankly, it's a tough challenge. As such, it's best not to skimp on the speakers you choose for your boat.
There are two significant differences between a marine-grade speaker and a typical car audio speaker. First, the materials used to create marine solutions are designed to handle prolonged UV exposure. Good quality solutions won't turn yellow, chalky or crack, even after years of constant sun exposure. Second, marine speakers should be completely water-resistant. There shouldn't be any way for water to get into the motor assembly, and components like passive crossovers should be housed behind the mounting surface. The better speakers include drainage holes at the bottom of the grille to let water out.
When looking at a marine speaker, you'll see that most include an integrated tweeter. This tweeter can be mounted to the grille or on a pedestal that extends up from the center of the woofer. If it's the latter, there needs to be a flexible seal around that tweeter post to keep water out. There is a performance advantage to having the tweeter suspended above the woofer in the grille. A dust cap increases the surface area of the woofer, so you get more sound from the same amount of power.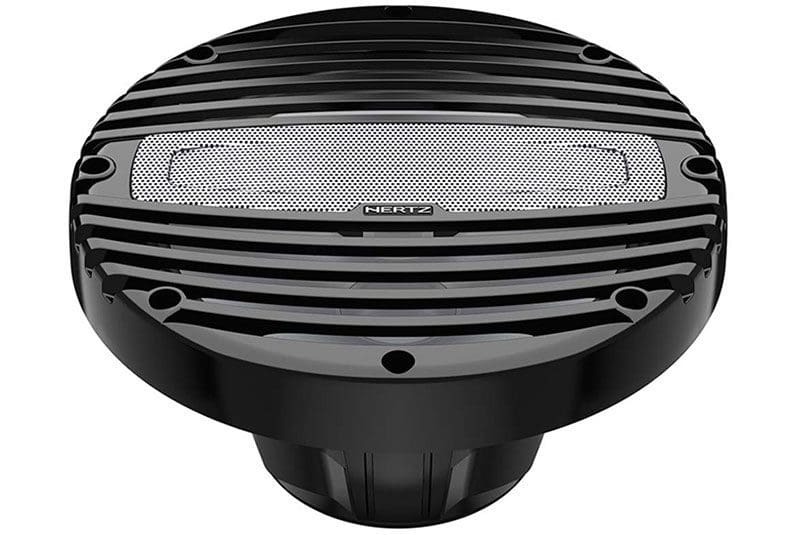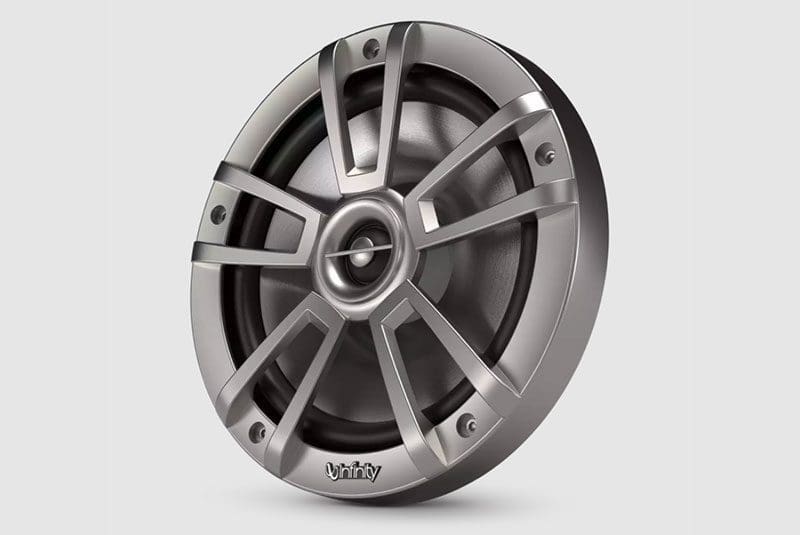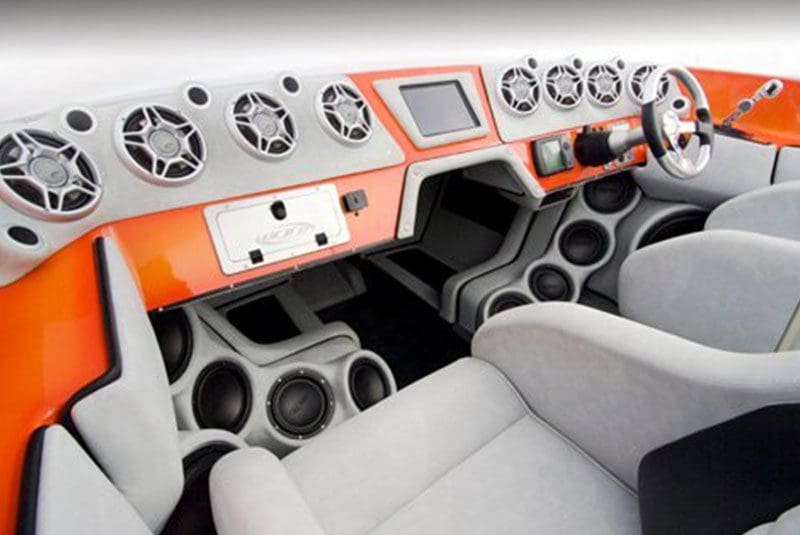 Marine speakers come in a variety of sizes, with 6.5-inch coaxial models being the most popular. Companies also offer 7.7-, 8- and 8.8-inch sizes. As you increase speaker size, the speaker's bass performance improves, along with the speaker system's overall efficiency. In short, you get more output for a given amount of amplifier power.
Marine speakers are available in enclosures designed specifically for wakeboard towers. These speakers are often modified to increase output dramatically using horn-loaded midrange and tweeter designs. If someone at the end of a 50-foot tow rope will want to hear the music, these efficiency and directivity features are quite beneficial.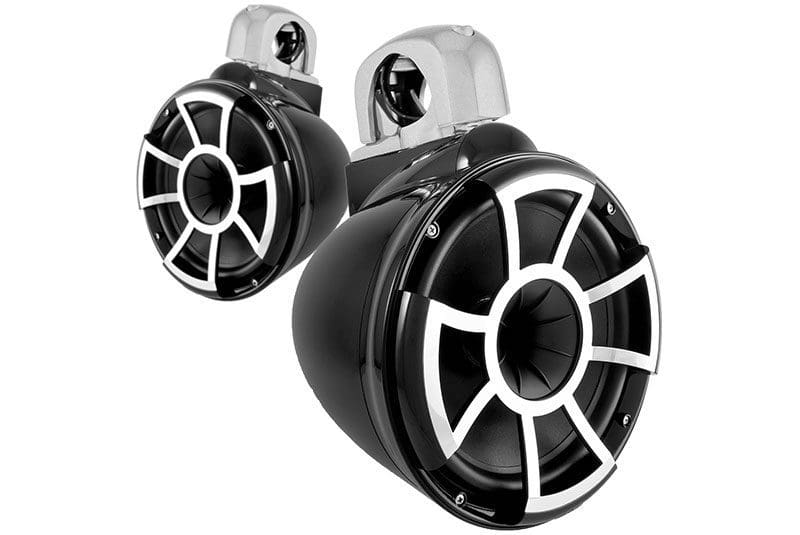 When shopping for tower speakers, keep weight in mind. Adding two or four speakers to the top of the wakeboard tower can change the way your boat handles. You will also want to ensure that the speakers include a high-quality clamping solution so that they're safe and solid as the boat pounds over waves and wakes.
One of the latest crazes in marine speakers is integrated illumination. Companies like Hertz, Kicker, JL Audio and Rockford Fosgate have options with built-in RGB LED lighting. Your installer can wire the speakers into a controller that allows you to change the illumination color using a wireless remote control or an app on your smartphone.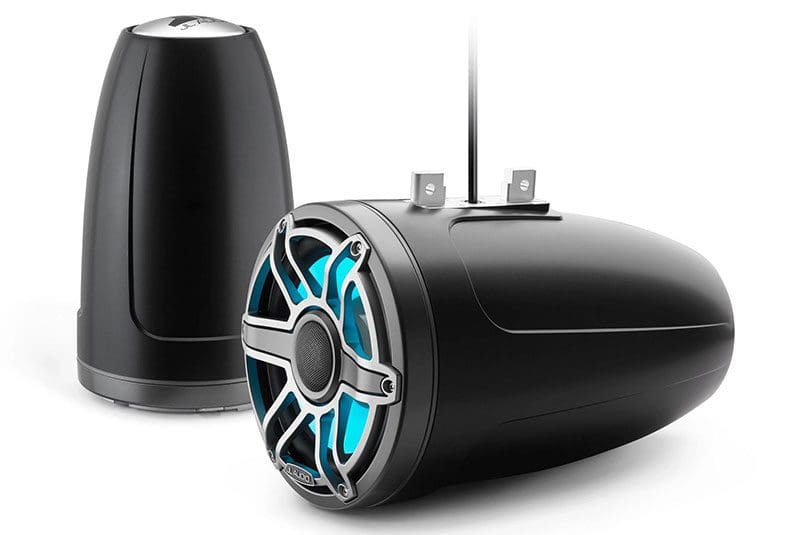 Auditioning marine speakers is a bit challenging. Most designs emphasize the upper midrange and high-frequency range that can sound harsh on a display board. Once mounted in a boat, this emphasis helps deliver a smooth response when the speakers are mounted in low locations like under a seat. Suppose the speakers in your boat are mounted such that some are pointed directly at the listening position and others are aimed at your legs. In that case, you might want to consider adding an amplifier with a digital signal processor to ensure that the sound is delivered evenly.
Marine Subwoofers, Amplifiers and Signal Processing
Just as with a car stereo, adding a subwoofer or two to your marine audio system will have a huge impact on the way it sounds. First, subwoofers are designed to deliver extended low-frequency output, so you can feel those bass notes, kick drums and synthesizers in your favorite music. Of equal importance, dedicating a low-frequency reproduction to a subwoofer means that the rest of the speakers in your boat don't have to work as hard. As a result, they'll sound clearer and play louder with the same amount of power.
Subwoofers are typically available in two solutions: models designed to be mounted in an infinite baffle configuration that uses the hull, or a large storage compartment as an enclosure or as a subwoofer designed for a small enclosure. Make sure you work with your retailer to choose the model that suits your application.
Marine-grade subwoofers are typically available in sizes from 8 to 12 inches. Just as with the speakers you choose, you'll need to make sure the subs can handle UV exposure and moisture. While we're at it, if you're having an enclosure constructed for a subwoofer, ask about having it made from a composite like PVC or Starboard.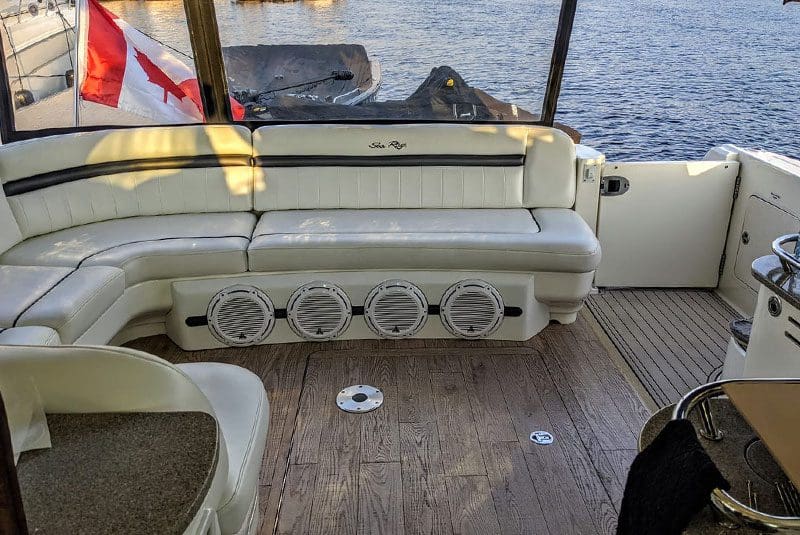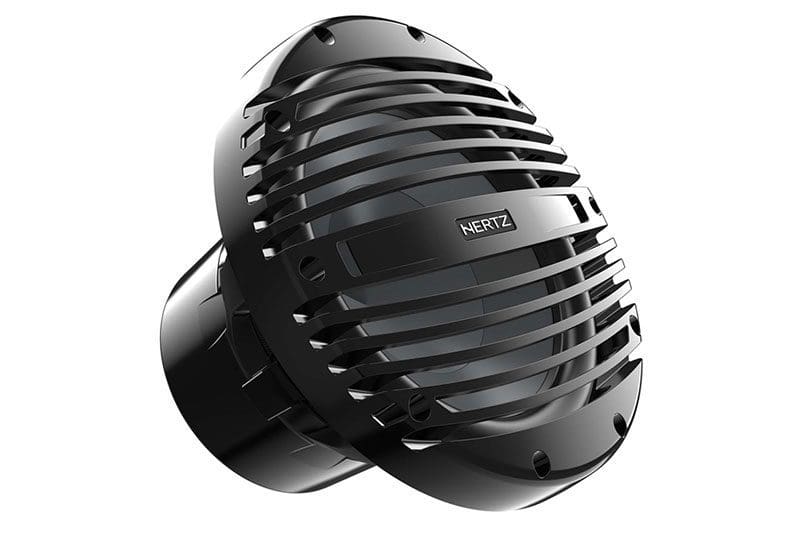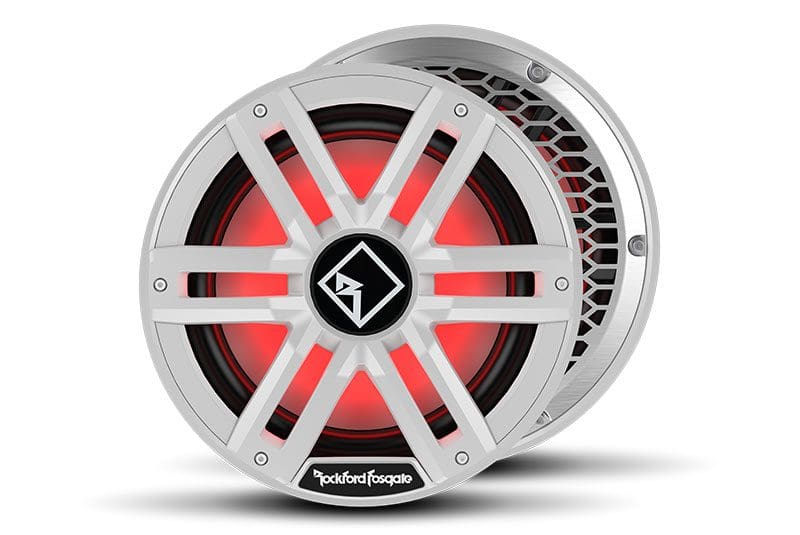 Of course, your subwoofer is going to need a good amount of power in order to perform well. This leads us nicely into a discussion of marine-grade amplifiers. As with our source unit selection criteria, just because an amp says it's designed for marine applications doesn't mean it is automatically water-resistant. In most cases, marine amplifiers have a powder-coated heatsink and bottom plate, use stainless steel hardware and have conformally coated circuit boards. Some compact marine and powersports amplifiers are watertight. Be sure to keep this in mind when talking to your installer about where the amplifiers will be installed in your boat.
Marine amps are available from compact single-channel designs for small to medium-sized subwoofers up to eight-channel solutions with integrated digital signal processing. Just as in a car or truck, calibrating the output of each speaker in your marine audio system will ensure that your music sounds great from anywhere onboard. Having a digital signal processor integrated into an amplifier is an easy way for your installer to make your music sound great.
Choosing an amplifier for a boat requires that you balance power requirements and efficiency. If you are listening to music with the engine off, then you want an amp that will make the most of the energy stored in your batteries.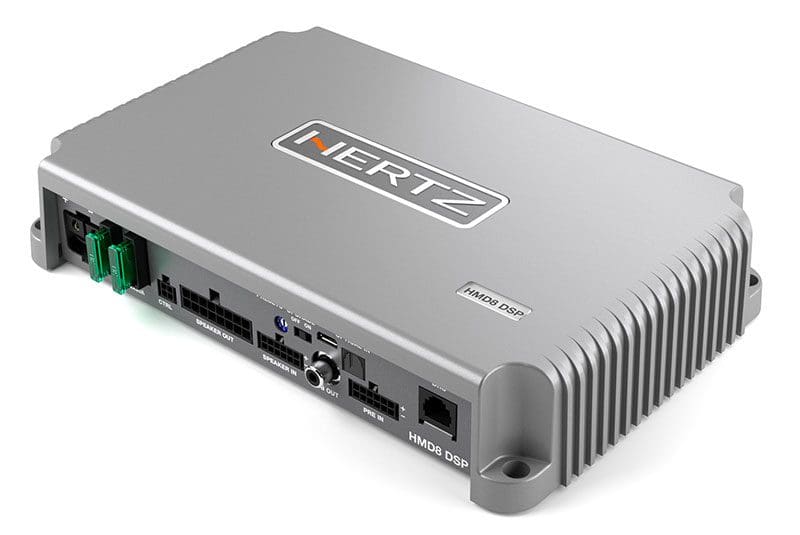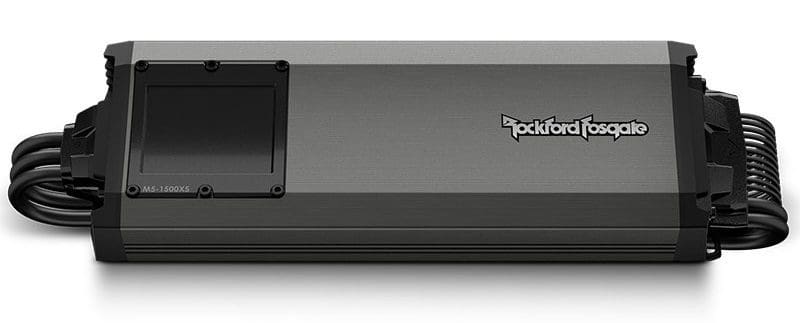 The amplifier or amplifiers you choose will need enough channels to drive all the speakers in the boat and work with the radio you've chosen to give you control over different volume zones. Don't be surprised if the Product Specialist who's working with you to design the system makes a drawing of the layout to ensure that every inch of the boat will sound great.
Wiring for Marine Audio Systems
Another place you won't want to skimp when it comes to your marine audio system is the wiring. Once again, boats provide a unique challenge as running wires and cables isn't as easy as in a car or truck. The wiring you choose for the system should be of high quality and feature tinned copper construction to help prevent corrosion in humid environments.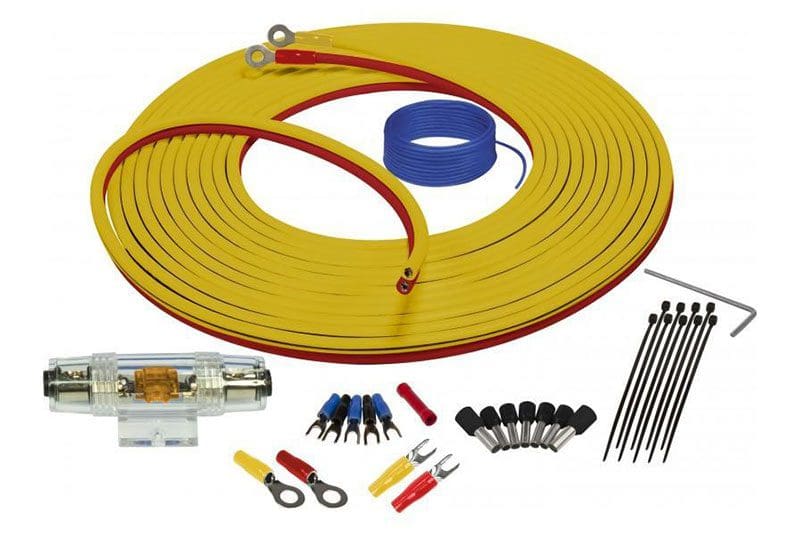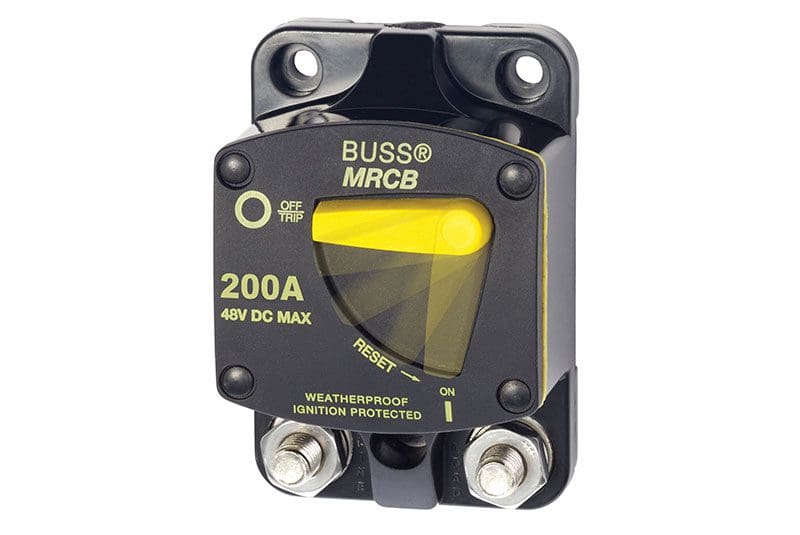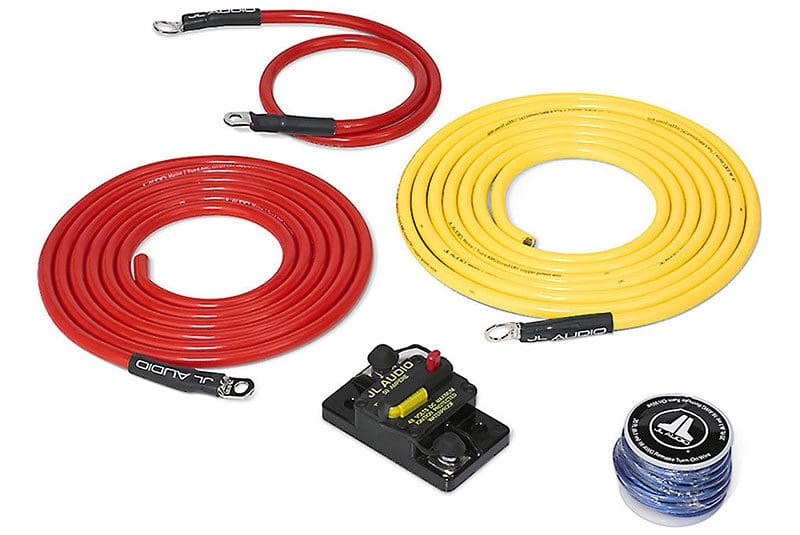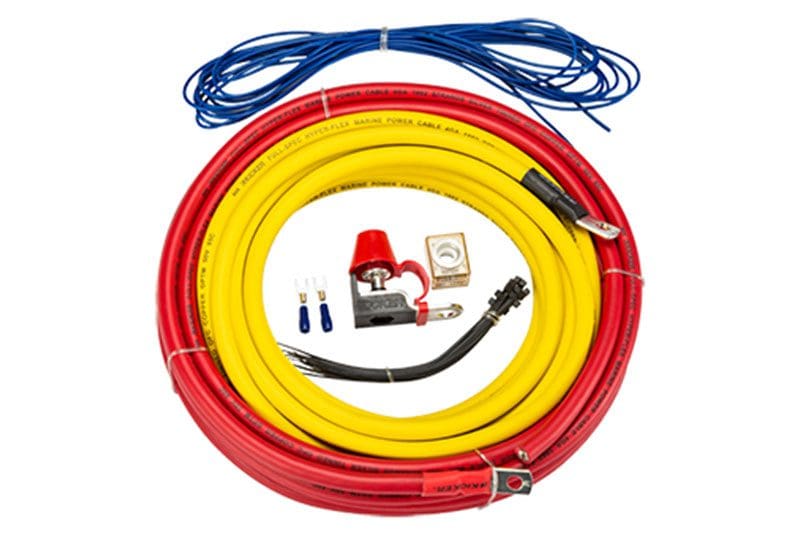 There's another important consideration when choosing electronic and electrical components to upgrade your boat. The American Boating and Yacht Council, along with the US Coast Guard, requires that switches, circuit breakers, fuse blocks, motors or electronic devices that will be installed in an area where fuel vapors may be present must be "ignition protected." A device that is ignition protected will not, under normal operation, get hot enough or produce a spark that would cause flammable vapors to ignite. Look for products that include SAE J1171 External Ignition Protection of Marine Electrical Devices or UL 1500 Ignition Protection Test for Marine Products certifications.
Last but certainly not least, ensure that the technician installing your marine audio equipment mounts everything as solidly as possible. Unlike cars and trucks, boats endure high vertical G forces that can rip improperly mounted speakers and amplifiers off panels when not installed correctly.
Great Music Makes Boating More Fun!
Whether you're shopping for components to replace worn-out or outdated equipment or want a custom audio system created so everyone onboard can rock out, your local specialty mobile enhancement retailer can design and install the perfect marine audio upgrade. Please drop by and talk with them today about making your boat stereo sound amazing.