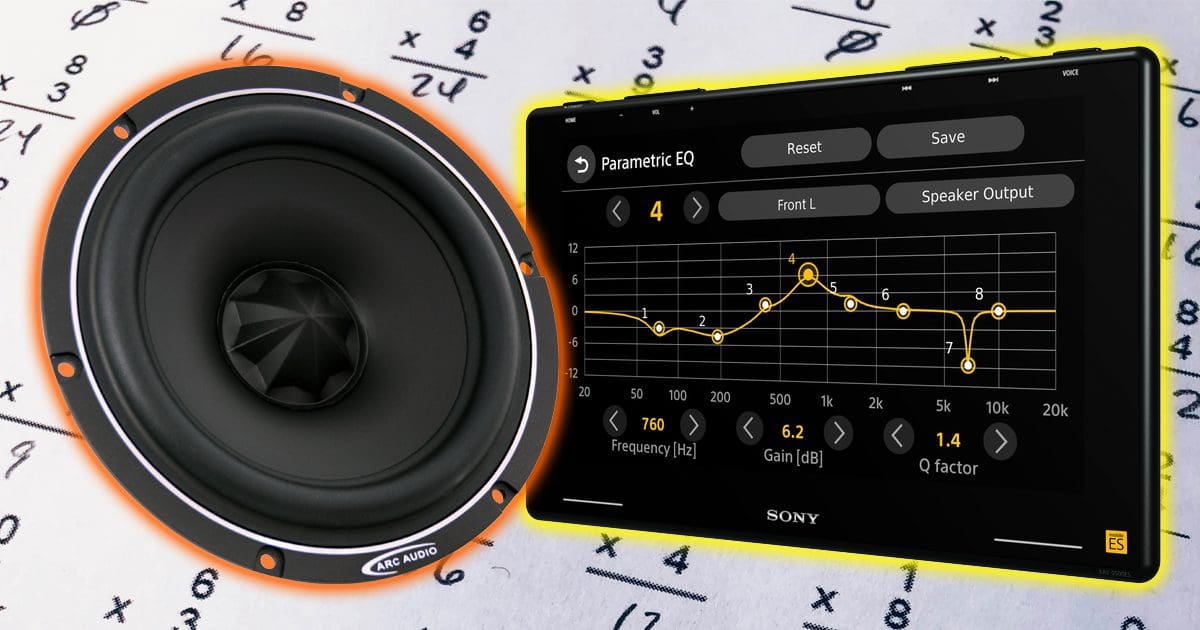 Car audio enthusiasts will run across the term Q, Q factor or Quality factor when discussing car audio speakers, subwoofer enclosures or parametric equalizer configuration. The Q factor describes the damping characteristics of a resonant system. For speakers, proper cone control requires carefully calculated damping. When talking about equalizers, the Q of a filter describes its bandwidth. I know it all sounds a little intense. Please don't panic; I'll explain.
Filter Q Factor in Equalizers
Many car radios and equalizers include adjustable bandwidth settings. Your installer can dial in a certain amount of boost or cut at a specific frequency and turn the Q knob or enter a value that defines the frequency range the level adjustment affects. We call this a parametric equalizer when frequency, cut/boost and Q are all adjustable. So, in this context, what exactly does Q mean? In short, it's a unitless comparison of the -3 dB bandwidth of the filter to the center frequency. Yeah, I know, more gobbledygook, right? The chart below helps to make everything much clearer.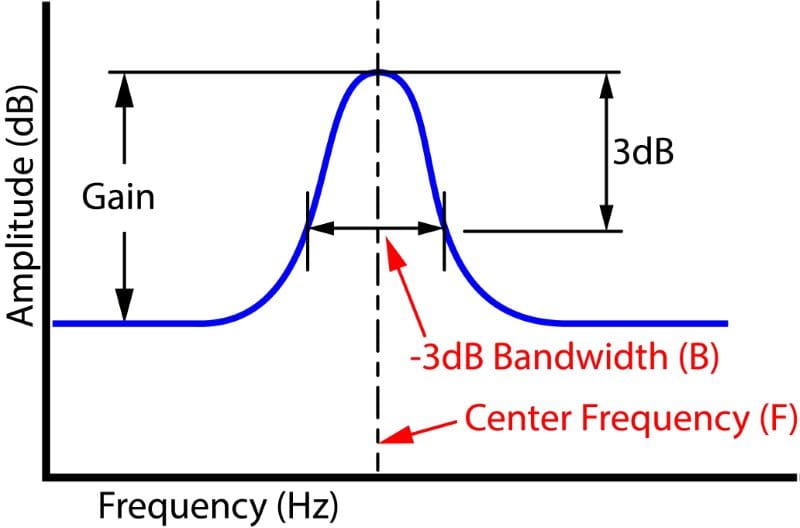 Let's look at the frequency response chart of a single band of equalization. Two values are important to the calculation of the filter Q: the center frequency of the filter and the bandwidth of the waveform at the point that it's 3 dB down from the peak. So if we divide the center frequency (F) by the bandwidth (B), we get the Q.
If you had a 30-band graphic equalizer in your vehicle, you'd want each band of adjustment to not overlap with an adjacent band (by default, at least). For example, you might want to boost or cut frequency content at 500 hertz but not affect the output at 400 or 630 hertz.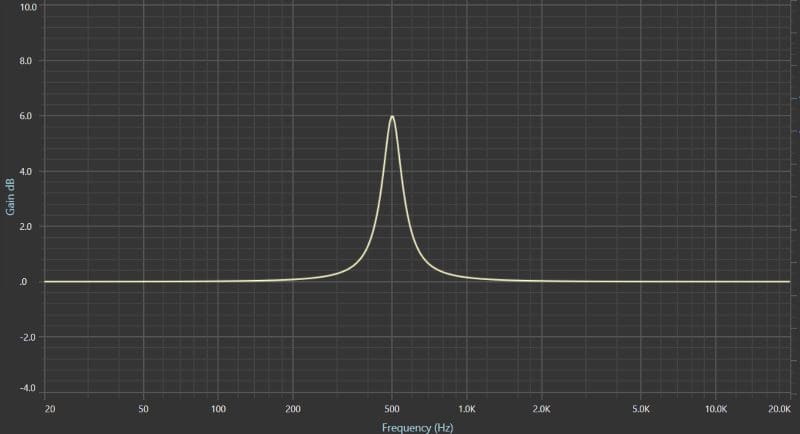 Looking at the screenshot of the ARC Audio PS8 Pro software's frequency response plot, we can see that boosting 500 hertz by 6 dB using a filter with a Q of 4.31 gives us -3 dB values of about 442 and 558 hertz. That's a bandwidth of 116 hertz. So if we divide 500 by 116, we get 4.31.
It's unlikely that we will take the time to calculate Q values. However, you need to know this: High Q values result in a narrower bandwidth and lower values in broader bandwidth. I've overlaid two additional plus 6 dB filters on this equalizer response graph, one with a Q of 2.2 and a second with a Q of 8.6, to demonstrate the change in bandwidth.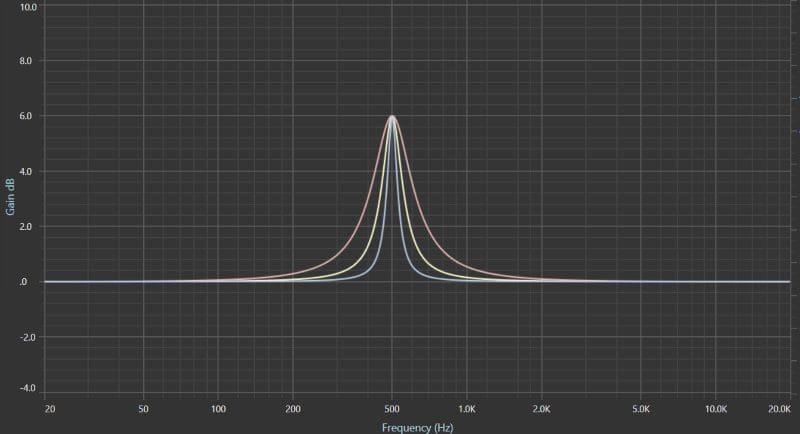 The ARC Audio software is quite flexible, allowing for Q values from 0.1 to 20. Here's the same graph, with the second band set with a Q of 0.1 and the third band set with a Q setting of 20.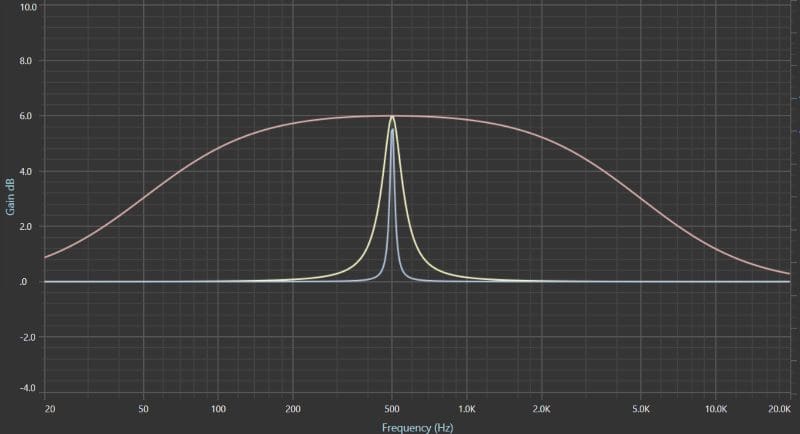 When a technician is working with an equalizer to calibrate the output of a speaker, they will look at the frequency response measurement with an RTA, then choose a filter frequency and Q to boost or cut the signal to compensate for variations in the acoustic response.
Speakers and Q Factors
If you've been following the articles we've published about speaker specifications, then you'll recall that a speaker includes two springs (the spider and the surround) that work to bring the cone back to rest after the electrical current is removed from the voice coil. In the context of Thiele/Small parameters, speakers have three Q values: Qms, Qes and Qts. The Qms value is the mechanical Q of the suspension. The electrical Q is defined by Qes and is the ratio of the driver's reactance to its resistance. The two values create a "total Q" value called Qts.
A while back, we wrote a detailed article on why you would want to choose low-Q woofers for your door speakers. We can sum it up in a few short statements. A higher-Q speaker (Qts > 0.85) will store and release more energy, which causes the woofer cone to continue to move after the current is removed from the voice coil. This is called an under-damped system. A low-Q driver (Qts < 0.65) is considered mechanically overdamped, but this helps to bring the cone back to rest quickly after a signal is removed. Why might you want an over-damped driver? If you are using it in an enclosure, the compliance of the air in the enclosure combines with the compliance of the cone to create a new Q value – Qtc. The Qtc value is the system Q. If you need a driver for a small enclosure, then you'll want something with a fairly low Qts value to hit a critically damped target Qtc around 0.65 to 0.7. If you're shopping for a door speaker that will be used with a subwoofer, then a low-Q design will prevent a bump in the midbass region that's associated with sloppiness and muddiness.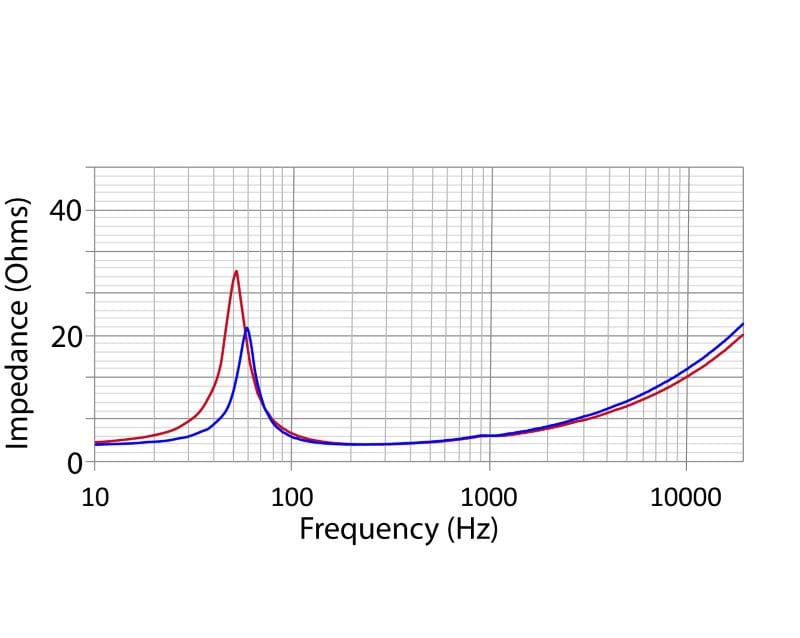 I've shown the impedance curves of two different 6.5-inch car audio woofers in the graph above. The trace in blue has a Qts value of 0.37. If you look at the shape of the curve, it's tall and narrow. The trace in red shows a speaker with a Qts value of 0.59. The trace isn't as tall but has a similar width. As such, the bandwidth of the resonant peak is wider. You can learn a lot about speakers from their frequency response and impedance curves. We'll discuss how to interpret that data in another article.
How Do We Perceive Speaker Q?
Unlike filter response in an equalizer that only affects the bandwidth of an adjustment, too much Q in a speaker system dramatically affects what we hear. I've already mentioned how a higher-Q woofer might be perceived as sounding uncontrolled. This same concept applies to subwoofers in the same context. The graph below shows the predicted output response of a 10-inch subwoofer in three different sealed enclosures.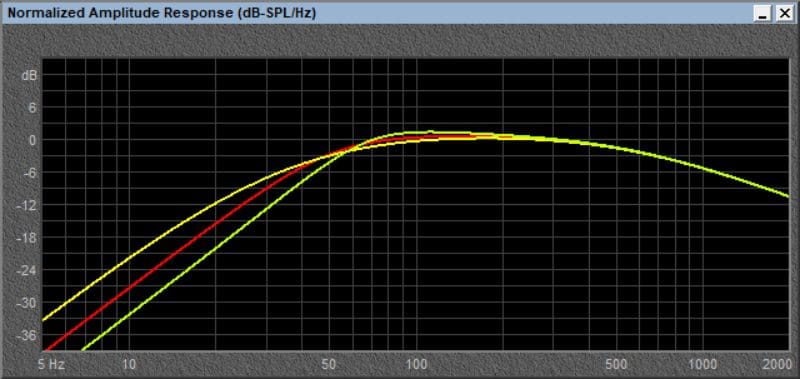 The red trace in the graph above is the predicted response of the subwoofer in a 0.721-cubic-foot enclosure. The system (subwoofer and enclosure) has a Qtc value that's near ideal (for a speaker system) at 0.7. Next, I simulated an enclosure with a Qtc value of 0.5, as shown by the yellow curve. This enclosure has a net volume of 5.77 cubic feet. Finally, I modeled an enclosure with a Qtc of 0.9 and a net volume of 0.309 cubic feet.
Aside from the changes in frequency response, the increase in output energy from 50 to 200 hertz is caused by the speaker continuing to move after the signal stops. This is like ringing in a metal door panel or the spring door stopper on baseboards that little kids like to play with. Effectively, it's distortion, as energy is being released as sound that wasn't part of the original recording. Designing an audio system where the subwoofers and woofers are in properly sized enclosures is critical to how we perceive the "control" or "tightness" of the system. A subwoofer system with a higher Qtc will sound boomy or sloppy compared with one with a lower Qtc that can reproduce bass with a thud that starts and stops as intended. I'll add an editorial comment and say I genuinely can't understand the trend of installing large car audio subwoofers in undersized enclosures.
A critically damped mechanical system with a Qtc value of 0.5 delivers theoretically perfect transient performance from a technical and mathematical perspective. A Qtc of 0.6 is said to provide the best delay response. Finally, a Qtc of 0.707 is said to offer the flattest frequency response with the least low-frequency cut-off. Most car audio systems that use a sealed subwoofer enclosure should have a Qtc target of around 0.75 or less. If you are trying to impress (or frustrate) your neighbors, then a higher-Q enclosure might be ideal as it offers more efficiency at higher frequencies. I prefer the increased accuracy and low-frequency extension associated with the lower Q designs. If you want to read more on subwoofer system Q, purchase a copy of the "Loudspeaker Design Cookbook" (7th edition) by Vance Dickason. The book isn't what I'd consider light reading, but it is very detailed.
Mind Your Q's
Understanding the Q of a filter or a speaker is a fairly high-level concept and is well beyond what most folks upgrading their car audio systems consider during the purchase process. Understanding Q concerning equalization and speaker parameters is important when it's time to eke out that last ounce of accuracy. Speaker Q factors, in particular, go a long way to tell us about the "tightness" of an audio system. Drop by your local specialty mobile enhancement retailer to find out about the equalizer and speaker options available to improve the performance of your car stereo today!