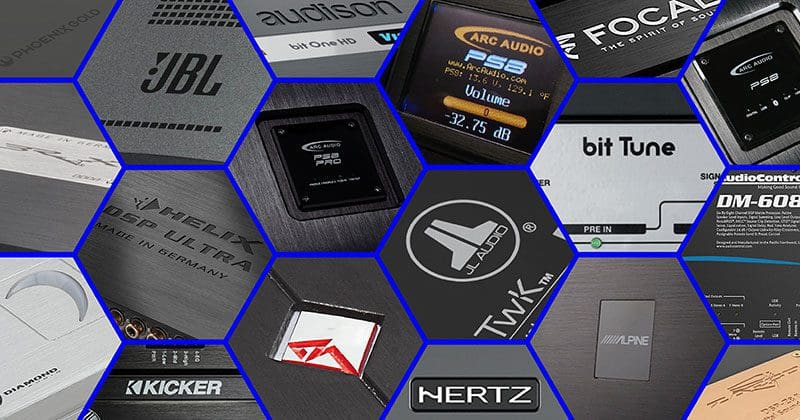 When it comes to achieving realistic audio system performance, it's nearly impossible to make a car audio system sound its best without a properly calibrated digital signal processor. Compensating for less-than-ideal speaker locations and sound reflections from the multitude of hard surfaces in a vehicle is something that vehicle manufacturers and their audio suppliers have been doing since the late '90s. In those factory-installed applications, signal processing made low-cost speakers sound acceptable. In aftermarket systems, a skilled technician can make a good set of speakers sound amazing. Let's take a close look at digital signal processors (DSPs) and explain their key features.
Why Does My Car Stereo Need a Digital Signal Processor?
In venues like movie theatres, concert halls, stadiums, arenas, churches and clubs, the technicians who design and install audio systems know that proper system calibration is fundamental to delivering great sound and system reliability. The goals are the same for car audio systems: deliver smooth frequency response and a realistic presentation while ensuring that the system can play at appropriate volume levels without damaging the speakers.
To achieve these goals, mobile audio systems require a few vital signal-processing components – primarily crossovers and equalizers. Analog crossovers and equalizers have been available as stand-alone options since the late '70s. It wasn't until the cost of the digital signal processing integrated circuits (ICs) came down that they became popular in car audio systems.
Even the most basic DSP includes adjustable crossovers, at least a half-dozen bands of equalization per channel, signal delay capabilities and adjustable output levels controls for each channel.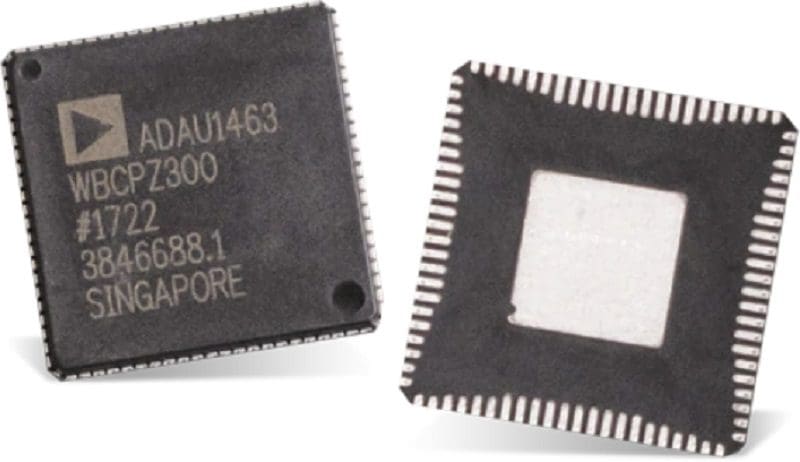 What To Look for in a DSP
Shopping for a DSP is even more difficult than looking for an amplifier. Worse yet, having one installed and calibrated successfully depends on the ability of the person doing the work to understand the mechanics of the calibration process and the computer interface provided by the processor manufacturer. Some of the most complex processors have so many features that it can be difficult to route, filter and equalize signals properly without adequate experience. As such, it's important to purchase a make and model of processor that the person working on your vehicle is familiar with.
Once you're comfortable that the technician working on your car or truck understands the processor, you can start to look at features such as the number of channels, processing capabilities and source options.
It's essential to have an adequate number of channels for the system you want to be installed. If you plan on running a set of speakers in the front doors, a second set in the back doors and a subwoofer, then you'll need at least five channels of processing. If you upgrade the system with component speakers in the front and dedicate a set of amplifier channels to the tweeters, you'll need two more channels. If you want separate midrange and midbass drivers, that's two more processing channels. For many years, processors with eight inputs and outputs were popular. The Audison bit One was one of the first affordable processors on the market. AudioControl and Mosconi stepped things up with 10- and 12-channel solutions, and Helix has joined Mosconi with its 12-channel processor.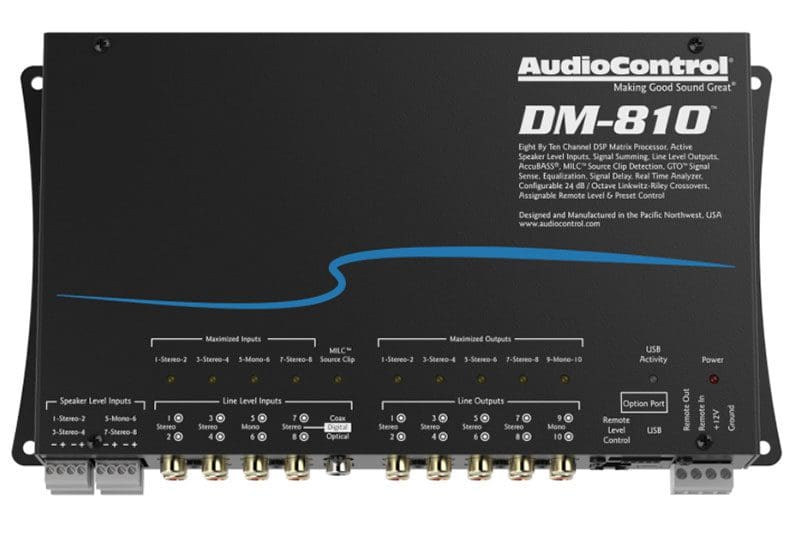 Having a multitude of channels often comes with an assumption that the signal from any input can be combined with any other signal and routed to any output. While often true, this isn't always the case. Some processors use multiple ICs, and audio signals can't always be routed randomly. Ensure that the product specialist designing your sound system is certain there are enough inputs and outputs and that signals can be routed properly to achieve your system design goals.
Signal Input Options
Before we dive into processing features, we should look at some of the many signal input options. When we talk about inputs, we look at the different ways to feed audio signals into the DSP. The most common, unsurprisingly, is via an analog preamp input using RCA connectors. These inputs will allow your installer to connect the processor to the output of an aftermarket radio.
Many processors offer speaker-level input options. Some have dedicated speaker terminals, while others use external pigtails that modify the signal coming from a radio or amplifier to work with the RCA inputs. When looking at speaker-level inputs, your technician will need to know how much voltage the factory-installed radio or amplifier can produce. Some OEM subwoofer amplifiers can have over 30 volts of output.
One last thing to talk about in terms of speaker level inputs is how processors deal with OEM amplifiers that use Class-D designs. In most cases, these amplifiers have filter networks on the speaker terminals that are explicitly designed to work with a chosen speaker impedance. If the speaker load is removed, the filter circuits don't operate as intended, and noise and distortion are added to the signal. Additionally, some amplifiers (and radios) have circuits that will disable the system if a speaker load isn't detected. A few processor manufacturers have included load generation circuits that can simplify the integration process. When shopping, keep in mind that there's a difference between a steady-state low-impedance load like you'd find from a resistor and a temporary load that's present to get the system up and playing.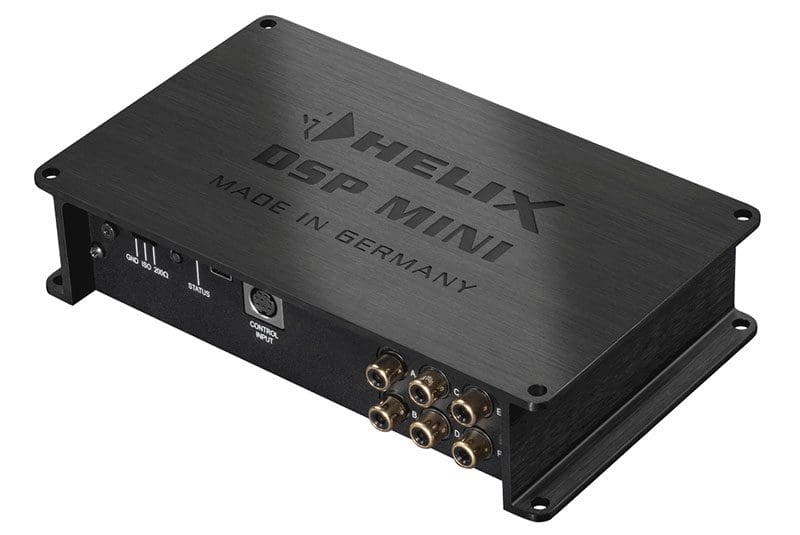 In terms of other common inputs, digital connections via a fiber optic TOSLINK cable are very common. Integration processors such as the Zen series from Nav-TV and the PAC AmpPRO offer stereo digital outputs. TOSLINK is excellent because it is impervious to noise. The drawback is that you only have a pair of channels. If you want the fader control on a radio to work, you'd need a solution with multiple digital inputs and outputs – something that doesn't currently exist.
Lastly, we have Bluetooth audio streaming options that let you pair your smartphone directly to the processor to play music. In most cases, these modules are optional accessories that can be added to the processor.

Audio System Integration Options
If you have an audio system upgraded with a DSP, making sure everything operates as though it came from the factory is crucial to the audio system's long-term functionality. Companies such as ARC Audio, AudioControl and Audison have partnered with iDatalink to include support for the Maestro AR amplifier replacement interface. Using a Maestro AR interface allows the processor to execute digital commands (like volume adjustments) from the radio. Aside from basic volume control functions, these solutions can map navigation prompts, warning chimes and other sounds properly and at appropriate levels.
Something else you'll want to make sure exists is a way to turn the processor on automatically if it's to be connected to a factory-installed audio system. Most good processors have a circuit that detects audio signals or the DC output voltage from a BTL amplifier to automatically turn on the unit. Once on, the majority of these processors provide an output to activate the system's amplifiers.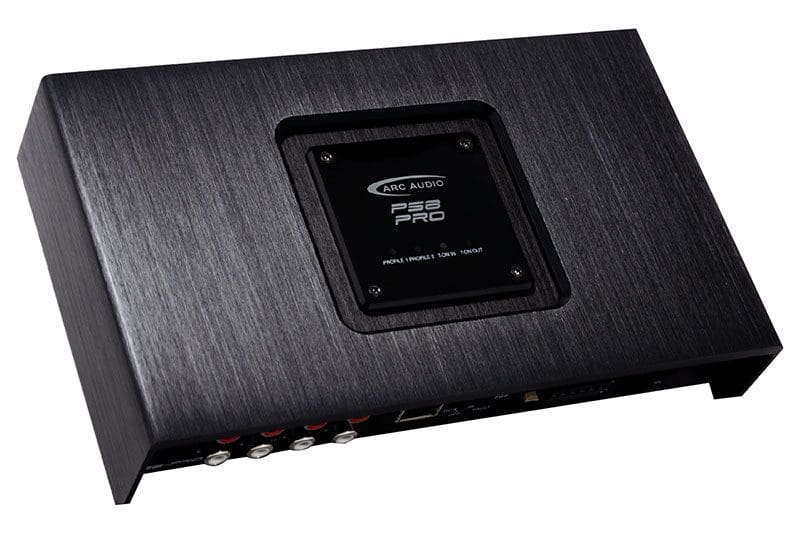 Remote Control and Adjustment Options
Another thing to consider when choosing a processor is the ability to make changes to the system while driving. The commonly available processors support remote level controls, computerized remote-control modules or, in some cases, both. Many of these solutions allow the driver to change presets or adjust the subwoofer level, rear speakers or a center channel. Some of the more advanced remotes also allow the user to make calibration adjustments, though the installation technician can lock that function.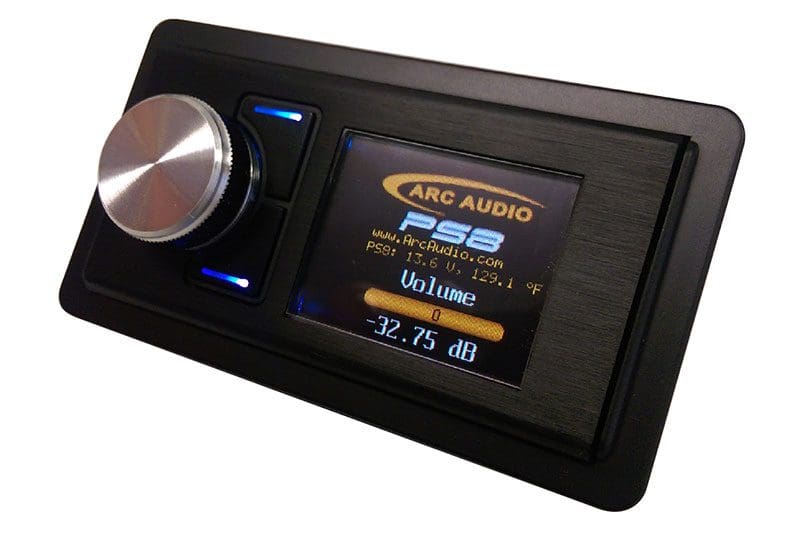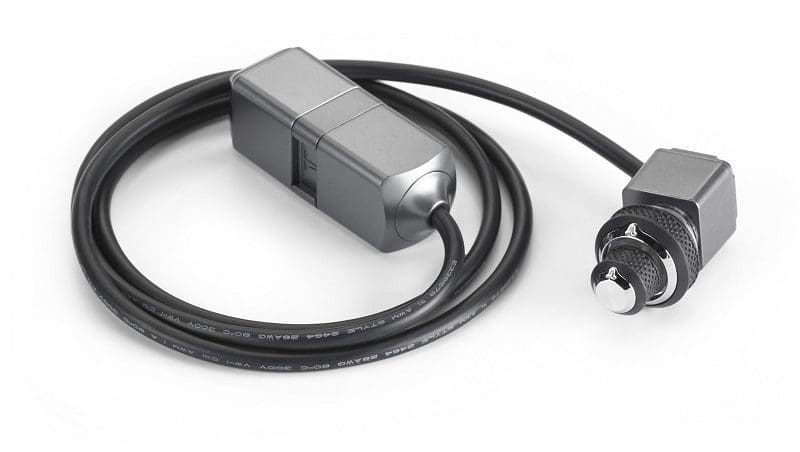 Input Processing Options
If you plan on using more than one source with your processor, it's crucial to choose a solution that includes processing for the input stage. Equalization, all-pass filter compensation and time-alignment options are essential to ensure that the signals that pass through to the mixing, filtering and equalization stage are flat in terms of frequency response and coherent from a time and phase perspective. Without these features, audio from a Bluetooth or auxiliary input source won't sound the same as your radio.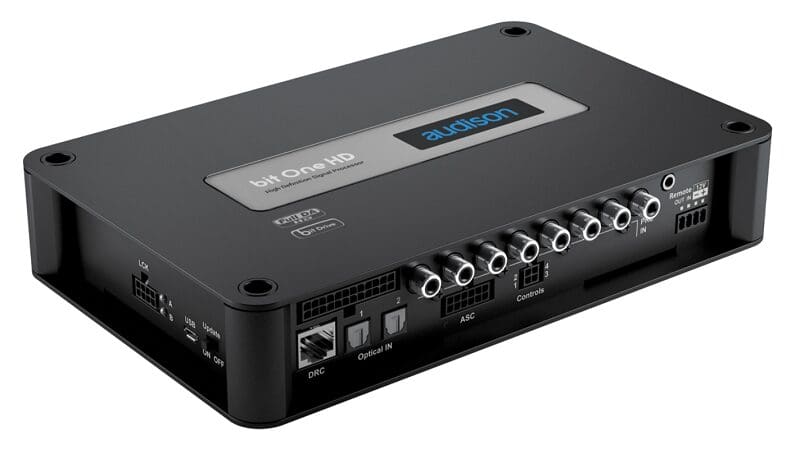 Crossover Controls
While it seems simple, the slope and type of crossover used are crucial to both the longevity and quality of your audio system. In almost every case, crossovers are used to protect speakers and sometimes subwoofers from damage because of excessive excursion. Logically, a tweeter isn't designed with a suspension that can handle midrange frequencies. Likewise, a small midrange won't enjoy being driven with low-frequency bass information. At the other end of the spectrum, ensuring that the technician who calibrates the system uses the appropriate type of filter is crucial to how the output of two drivers operating in adjacent frequency ranges sounds. In most cases, your tech will want to use Linkwitz-Riley filter alignments, but many DSPs also include Butterworth, Bessel, Chebyshev and variable-Q options.
Equalization Options
Two types of equalizers are commonly used in car audio applications: graphic and parametric. A graphic EQ provides several bands, usually 30, where each band is centered at a specific frequency and operates over a fixed bandwidth or range of frequencies. The technician can add or subtract (boost or cut) those frequencies using the adjustment to compensate for resonances and cancellations in the audio system.

The second type of equalizer is known as parametric. In a parametric EQ, the technician can change the frequency of each band of the equalizer along with the range of frequencies over which the EQ adjusts. This latter adjustment is called the Q of the filter. In these implementations, the technician can use the information provided by his RTA to hone in on specific frequency ranges that need adjustment.
Calibrations are most accurate if the technician can input a filter frequency, the amount of cut or boost, and, if available, the Q of the filter manually instead of having to slide icons around on a graph.
All-Pass Filters for Two-Seat Calibrations
An option that has become more popular in the last few years is for the technician to create what's known as a two-seat tune or calibration. Historically, car audio systems that made use of a digital signal processor were configured with signal delays that align the output of each speaker to the drivers' position. The result, when combined with proper equalization, is an impressively accurate soundstage. The drawback is that this calibration only sounds right from the driver's seat. The rest of the seating positions suffer from no discernable soundstage and mediocre frequency response.
As the aftermarket learns from companies such as Bose and Harman International (the company behind JBL, Lexicon, Mark Levinson, Revel, Harman Kardon and AKG OEM audio systems), many technicians are offering their clients two-seat calibrations where the audio system delivers good tonal balance and imaging to both front seats. To successfully implement these calibrations, the DSP needs to have a feature that allows for the addition of all-pass filters. Companies such as ARC Audio, JL Audio (in its VXi-Series DSP-equipped amplifiers), Mosconi and Helix include provisions to add these filters to improve the frequency response and realism of two-seat calibrations.
Output Level Controls
For the technician to calibrate the audio system accurately, he or she needs precise control over the level of each DSP output. As such, fine adjustments need to be made to ensure that each speaker in the audio system provides a correct level of contribution to the system. Choose a processor that has at least 0.1 dB of resolution in the output adjustment.
Signal Processing Options
A few companies have added dedicated signal processing features to their DSP solutions to restore lost high- or low-frequency information or create a center-channel output. Used appropriately and judiciously with proper system design, these features can improve an audio system's performance.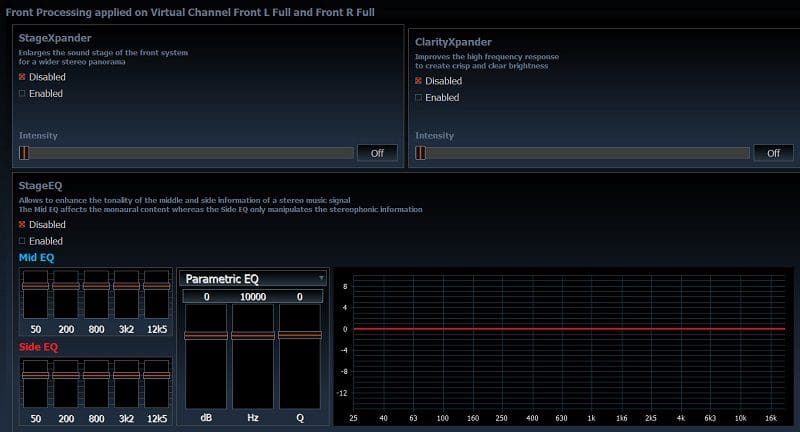 Level Meters and Clipping Indicators
When equalization is applied to an audio signal, there's always a chance that boosting certain frequencies may overdrive some audio path stage. Many processors include software- or hardware-based clipping indicators that let the tech know when there's too much voltage present. The best solutions allow the technician to optimize each stage of the signal path using dedicated level meters to maximize the signal-to-noise ratio of the entire calibration process.

High-Resolution Compatibility
Another recent fad in the DSP industry is to offer extended high-frequency performance that's compatible with high-resolution audio files. This would imply that the processor can accept, process and output audio frequencies up to 44 kHz and beyond. There will always be controversy over the benefit of high-resolution audio formats. Interestingly, a close look at the specifications for many of the DSP ICs available on the market shows a reduction in signal-to-noise ratio when the bandwidth is increased to include audio above 22 kHz.
Automatic Calibration Processing
Many of the processors on the market tout the ability to automatically remove equalization, signal delay and even all-pass filters from the output of factory-installed audio systems. Likewise, some even claim to be able to adjust the equalizer to reach a target response curve. While automatic equalization can save time, using these features still requires significant input from the technician working on the vehicle. The microphone isn't likely to know the source of a sound. As such, there could be an issue with signal routing that results in a less-than-ideal response. These systems also can't detect distortion caused by a speaker being over-driven or an amplifier clipping. Much of this comes down to proper system design and an understanding of how the processor works. Auto-EQ functions can be beneficial to save a few minutes during the calibration process, but they aren't a replacement for understanding how to do the process manually.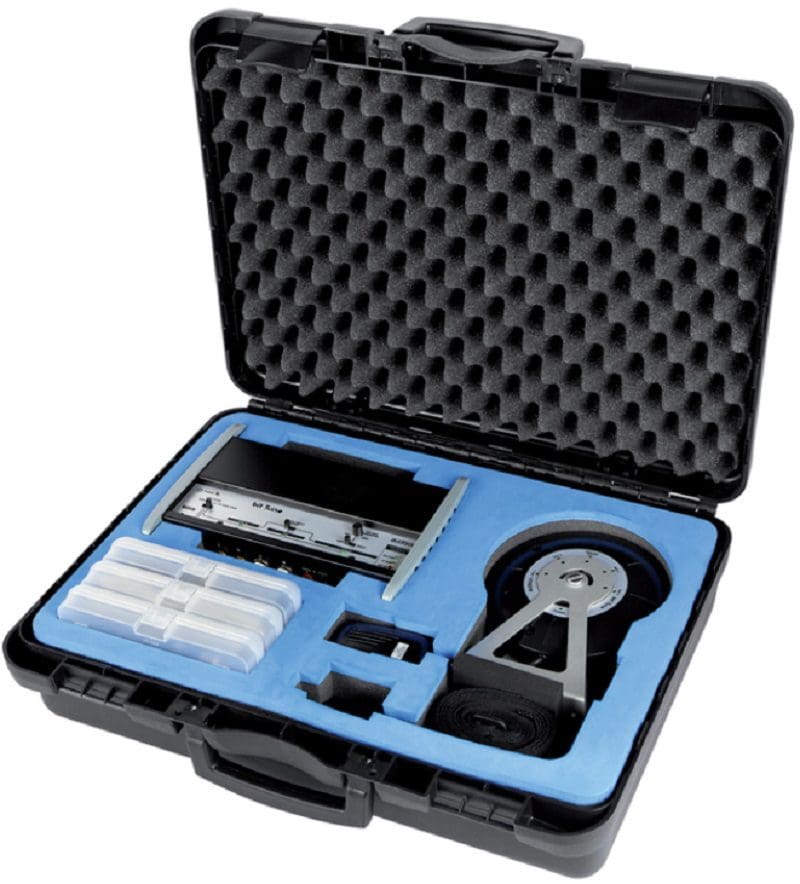 What About Product Specifications?
One thing that is important in choosing a processor is to pick one that has a minimal impact on the noise or distortion that's added to a system. In terms of signal-to-noise (S/N) ratio, you'll want to choose something with a spec of at least -100 dB (0.001%). From a total harmonic distortion standpoint, products at or above -90 dB (0.003%) would be considered quite good. Finally, you'll want at least -80 dB of crosstalk rejection at 1 kHz. Of course, there are many ways for manufacturers to measure these specs, so keep that in mind as you compare options.
Choosing the Right Processor for Your Car Stereo
Circling back to the beginning, what matters most is that the processor you choose is incorporated into a system that's designed correctly and that the calibration process is performed to meet your expectations. Long before you need to worry about the specific features and specifications of the processor, you need to qualify the skills of the person who will be integrating it into your audio system. This last step should involve auditioning systems they have worked on to ensure that the tonal balance, staging and imaging are suitable for your listening preferences. Drop by your local specialty mobile enhancement retailer today to learn about the digital signal processor options available to enhance the enjoyment of your mobile audio system.